Last Updated on
The popular Moto 360 after a long break from the smartwatch market is back with a new Moto 360 3rd Gen., it succeeds the Moto 360 2nd Gen, and is now more equipped with Snapdragon 3100 chip, microphone, 8G ROM and 1GB RAM as well as other enticing features. We compare it with two other premium smartwatches, the award winning Galaxy Watch and the Pro 4G. Compare the Samsung Galaxy Watch vs Moto 360 3rd Gen vs Ticwatch Pro 4G specs and features -which is the best choice? Let's find out.
Samsung Galaxy Watch vs Moto 360 3rd Gen vs Ticwatch Pro 4G Specs Compared
Samsung Galaxy Watch
Moto 360 3rd Gen.
Ticwatch Pro 4G LTE

EDITOR'S RATING

Design:

(

4.5

/

5

)

Battery:

(

3.5

/

5

)

Fitness tracking:

(

4.5

/

5

)

Features:

(

4.5

/

5

)

Price:

(

4.0

/

5

)

Average:

(

4.2

/

5

)

Design:

(

4.6

/

5

)

Battery:

(

3.5

/

5

)

Fitness tracking:

(

4.1

/

5

)

Features:

(

4.2

/

5

)

Price:

(

3.2

/

5

)

Average:

(

3.9

/

5

)

Design:

(

4.4

/

5

)

Battery:

(

3.8

/

5

)

Fitness tracking:

(

4.1

/

5

)

Features:

(

4.5

/

5

)

Price:

(

3.5

/

5

)

Average:

(

4.1

/

5

)

WHERE TO BUY

Check at Amazon
__
Check at Amazon

ABOUT DEVICE

Device name
Samsung Galaxy Watch
Moto 360 3rd Gen
Ticwatch Pro 4G
Device type
Classic/Fitness/Standalone smartwatch
Classic/Fitness smartwatch
Classic/Fitness/Standalone smartwatch
Predessesor
Samsung Gear S3
Moto 360 2nd. Gen.
Ticwatch Pro
Successor
--
_
--
Released date
August, 2018
December, 2019
July, 2019
Ideal for
Men (46mm)
Women (42mm)
Unisex
Men

DISPLAY

Display type
Super AMOLED
Full color
AMOLED
Full color
AMOLED + FSTN
Always-on

Display size
1.3 inch (46mm)
1.2 inch (42mm)
1.2 inches
1.39 inch
Display resolution
360 x 360 pixels
390 x 390 pixels
400 x 400 pixels
Pixel density
278 ppi
326 ppi
400 ppi
Input type
Touchscreen,
2 physical buttons
physical rotating bezel
Touchscreen
2 Physical buttons
Touchscreen plus 2 buttons
Always-on
Yes
Yes
Yes (FSTN)

BODY

Shape
Circular
Circular
Circular
Dimension
41.9 x 45.7 x 12.7 mm (42mm)
46 x 49 x 13 mm (46mm)
42.8 x 42.8 x 11.68 mm
45.15 x 52.8 x 12.6 mm
Weight
63 grams (46mm)
49 grams (42mm)
52g
(without strap)
47.4 grams
Casing material
Stainless steel/glass reinforced with polycarbonate
SUS316 Stainless steel/
DLC/PVD coating
Glass reinforced
polyamide with aluminum back
Strap/band material
Silicone
(leather straps also available)
Leather
Silicone
Bezel Material
Ceramics
Ceramics
Stainless steel
Strap size
22 mm (46mm)
20 mm (42mm)
20mm
22mm
Screen protection
Corning Gorilla glass DX+
Corning Gorilla Glass 3
Corning Gorilla glass
Water resistant/Protection
Yes, IP68, 5ATM
MIL-STD-810G
3ATM
Yes, IP68
MLT-STD-810G
Swim-proof
Yes, recommended
Recommended
Recommended
Color(s)
Black, silver, rose-gold
Black
Silver
Rose-gold
Black

MEMORY

RAM
1.5GB (LTE),
0.75GB (non-LTE)
1GB
1GB
Internal storage
4GB
8GB
4GB
Memory card slot
No
No
No

CONNECTIVITY

Bluetooth
Bluetooth v4.2
Bluetooth v4.2 LE
Bluetooth smart v4.2 LE
Bluetooth calling
Yes
No
Yes
Wi-Fi
Yes
Yes
Yes
NFC
Yes
Yes
Yes
GPS
GLONASS/A-GPS
GPS/GLONASS/Beidou/Galileo
GPS/A-GPS/GLONASS/Beidou

CELLULAR TECHNOLOGY

Technology
GSM/HSPA/LTE
No
2G/3G/4G
SIM
Yes, e-SIM
No
Yes, e-SIM
Band
GSM 850/900/1800
WCDMA B1/2/5
No
--

NOTIFICATIONS

Email alert
Yes
Yes
Yes
SMS alert
Yes
Yes
Yes
Calls alert
Yes
Yes
Yes
Event reminder
Yes
Yes
Yes
Weather
Yes
Yes
Yes
Third-party apps
Yes
Yes
Yes

FITNESS TRACKING

Sleep apnea
No
No
No
Sleep tracking
Yes
Yes
Yes
Steps
Yes
Yes
Yes
Floors climbed
Yes
Yes
No
Heart rate monitoring
Yes
Yes
Yes
Calories
Yes
Yes
Yes
Distance
Yes
Yes
Yes
Stress
Yes
_
Yes
VO2 Max.
Yes
_
Yes
Blood oxygen
No
No
No
Blood pressure
No
No
No
Menstrual cycle tracking
No
No
No
Swim tracking
Yes
No
No
Under-water heart rate tracking
No
No
No
Preloaded maps
Yes
No
No
On-screen workout modes
No
No
No
Triathlon mode
Yes
_
No
ECG Tracking
No
No
No
Preloaded sport modes
Yes
Yes
Yes
Safety tracking
No
_
No

MEDIA

Audio
mp3/mp4
mp3/mp4
mp3/mp4
Music streaming
Yes
Yes
Yes
Bluetooth music
Yes
Yes
Yes
Radio
No
No
No
Loudspeaker
Yes
No
Yes
Microphone
Yes
Yes
Yes
Camera
No
No
No

SENSORS

Accelerometer
Yes
Yes
Yes
Barometer/Altimeter
Yes
Yes
No
Heart rate monitor (HRM)
Yes
Yes
Yes
Compass
No
_
Yes
Gyroscope
Yes
Yes
Yes
Ambient light
Yes
Yes
Yes
Pulse Ox.
No
No
No
ECG
No
No
No
Thermometer
No
No
No
Other sensors
--
--
Low Latency Off-Body Sensor

PLATFORM

Operating system (OS)
Tizen OS 4.0
Wear OS
Wear OS
Chipset
Exynos 9110
Qualcomm Snapdragon 3100
Qualcomm Snapdragon 2100
CPU
Dual core 1.15GHz
Quad-core 1.2GHz
--
GPU
--
Adreno 305
--

BATTERY

Type of battery
Non-removable Li-ion battery
Non-removable Li-polymer battery
Non-removable Li-ion battery
Battery capacity
472mAh (46mm)
270mAh (42mm)
355mAh
415mAh
Battery life
Standby :5 days+,
Mixed usage: 2 days+
Standby: 2 days+
Mixed usage: 1 day+
Standby:25 days+ (FSTN)
Mixed/average usage:2 - 5 days
Charging type
WPC based wireless charging
Wireless charger
Magnetic charging dock
Charging time
About 1-2 hours
About 1-2 hours
About 1-2 hours
Battery saver mode
Yes
Yes
Yes
Solar power
No
No
No
Rapid charging
_
Yes
No

CLOCK FEATURES

Time/Date
Yes
Yes
Yes
Stopwatch
Yes
Yes
Yes
Alarm
Yes
Yes
Yes

OTHER FUNCTIONS

Control camera
Yes
Yes
Yes
Music control
Yes
Yes
Yes
Find phone
Yes
Yes
Yes
Text response
Yes
Yes
Yes

MISC

Payment system
Samsung pay
Google Pay
Google pay
Compatibility
Android 5.0+ & RAM 1.5GB+
iPhone 5+ and iOS 9.0+
Android 6.0+ (excluding GO edition).
iOS 10.0+
Android 6.0 (excluding Go edition)+
iOS 10.0+
Companion app
Samsung Gear app
Moto Body App
Mobvoi app
Customizable watch face
Yes
Yes
Yes
Interchangeable band
Yes, 22mm/20mm
Yes, 20mm
Yes, 22mm
Voice command
Yes
Yes
Yes

BOX CONTENTS

Samsung Galaxy Watch
Moto 360 3rd Gen
Ticwatch Pro 4G LTE
Small and large straps
Straps
Straps
Wireless charger
Wireless charger
Charging dock
Quick start guide
Manual Guide
Quick start guide
NOTE: We can't guarantee that all the information on this table are 100% correct. Read full disclaimer. Please, report an error.
Official Site
Official Site
Samsung Galaxy Watch vs Moto 360 3rd Gen vs Ticwatch Pro 4G Features Compared
What's the Difference?
Design

We have three fine looking smartwatches with the Moto 360 being the most compact. The 360 is also the slimmest which makes it the sleekest. Although, the Pro 4G and Galaxy Watch with wider display allow you to see more at a glance compared to the 1.2 inch display of the 360.

The Pro 4G weighs the least, thanks to its glass reinforced polyamide/aluminum back material, and this off course makes it the most comfortable wear out of these three. Moreover, the AMOLED/FSTN dual display mode of the Pro 4G will see it last up to 30 days with the essential FSTN LCD display activated. Although, with the essential display activated, Wear OS features become inactive.

In addition to the touchscreen support and physical buttons present on all three watches, the Galaxy Watch features an innovative physical rotating bezel that makes navigation a bliss which no doubt makes it a more sophisticated smartwatch.


Cellular Connectivity


Both the Galaxy Watch and Pro 4G ship with e-SIM which enables cellular connectivity and subsequently makes these two standalone smartwatch that are capable of making and receiving calls independent off your phone. The Moto 360 lacks this feature, and as such is a less comprehensive smartwatch compared to the other two.


Storage/Media


The Moto 360 with 8GB has the highest onboard storage capacity which is twice what you get with the Galaxy Watch or Pro 4G. This allows you take more of your favorite tracks with you on the go.

However, while the Pro 4G and Galaxy Watch have both microphones and loudspeakers, the Moto 360 ships with only microphone. You can still access voice assistant features on both the Pro 4G and Moto 360, while the former with loudspeaker adds more productivity to the voice assistant feature, allowing you to listen as well as being able to play media files anywhere.

Likewise, the Galaxy Watch features Bixby, and the loudspeaker present also adds more usefulness to its voice assistant features.


Fitness Tracking


Each of these three watches is fitness-focused and well equipped to track your daily activities as well as helping you manage your fitness goals. Any of these three is equipped to track your steps, distance, calories, continuous heart rate, sleep with inbuilt GPS in all three which enables outdoor activity tracking for locations, routes and real-time pace.

However, while the Moto 360 and Pro 4G both have Google Fit as your fitness companion, in addition, to access to many other fitness apps from the Playstore, the Galaxy Watch with about 39 preloaded sport modes and capable of auto-detecting and tracking 6 of those is a more comprehensive fitness tracker.

Moreover, Samsung is updating the Galaxy Watch and Active with fitness tracking features as seen on the newer Active 2. The new activity-tracking features will enable users to keep track of fitness goals through the Daily Active feature as well as track running and cycling lap times. Galaxy Watch will also now support the Low Heart Rate Alert feature, too.


Battery Life
From my personal experience, the Galaxy Watch last up to 3 days on average which is longer than the Pro 4G and Moto 360 with about 2 days long battery life. And this makes it the best choice for tracking extreme workout activities. Although, the Pro 4G with dual AMOLED/FSTN displays will last up to 30 days with the FSTN mode activated. This is more impressive than the Moto 360 with 3100 chip that enables battery saver modes that will see last up to 3 days.
With the FSTN mode of the Pro 4G or battery saver mode of the Moto 360 activated, Wear OS features are deactivated which still gives the Galaxy Watch the advantage.

Which is Better?
No doubt, all three smartwatches are good looking devices, great design, lots of features, fitness-focused and quite impressive battery life. However, the Galaxy Watch with the most sophisticated design, and being the most comprehensive fitness tracker with the longest battery life is a better smartwatch than the other two.
Our Pick
The Samsung Galaxy Watch being a premium smartwatch with a sophisticated design, loaded with lots of features and has a quite impressive long battery life is no doubt the most outstanding. The Galaxy is our preferred choice.
Compare Prices
Last updated on August 5, 2020 9:49 pm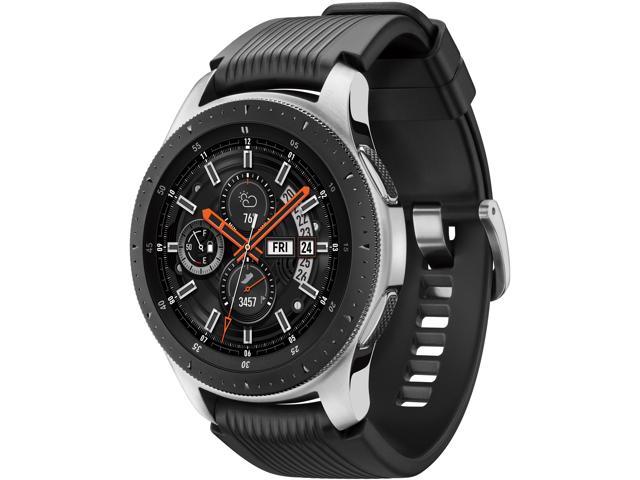 Newegg.com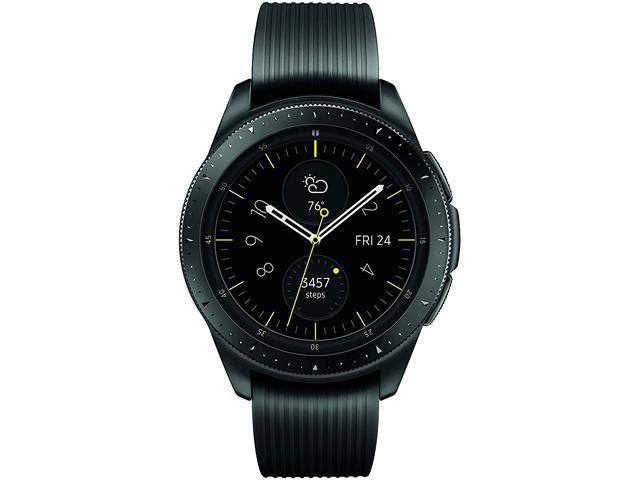 Newegg.com