Like this post? Please share it...
Last Updated on December 7, 2018 by Jude Simeone
LG Gizmopal 2 Full Specifications and Features – Verizon in partnership with LG have released the Gizmopal 2, a smartwatch specifically made for kids aimed to help parents stay in touch and know the whereabouts of their ward at all time. Going by the specs and features of this spectacular piece, it's a GPS tracker parents will want to get for their kids and most certainly your ward will like it and won't want to remove it.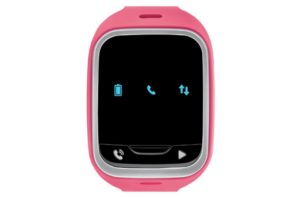 EDITOR'S RATING

Design:

(

3.8

/

5

)

Battery:

(

3.5

/

5

)

Fitness tracking:

(

3.2

/

5

)

Features:

(

4.0

/

5

)

Price:

(

3.3

/

5

)

Average:

(

3.6

/

5

)

WHERE TO BUY

BUY AT AMAZON

ABOUT DEVICE

Device name
LG Gizmopal 2
Device type
Fitness/sporty smartwatch
Predessesor
--
Successor
Released date
--
Ideal for
Kids

DISPLAY

Display type
--
Display size
--
Screen resolution
--
Input type
Non touchscreen + touchkeys (2 buttons)

BODY

Shape
Rectangular/curved
Dimension
49 x 37.8 x 14.2 mm
Weight
45.4grams
Casing material
Thermoplastic
Strap material
Silicone
Bezel Material
--
Band size
--
Screen protection
--
Water resistant
IP67
Swim-proof
Not recommended
Color(s)
Blue, pink, black

MEMORY

RAM
--
Internal storage
--
Memory card slot
--

CONNECTIVITY

Bluetooth
Yes
Wi-Fi
--
NFC
--
GPS
--

CELLULAR TECHNOLOGY

Technology
CDMA, Carrier: Verizon
SIM slot
Yes
Band
--

NOTIFICATIONS

FITNESS TRACKING

Sleep tracking
Yes
Distance covered
Yes
Steps climbed
Yes
Calories burnt
--
Calories Consumption
--

MEDIA

Radio
No
Loudspeaker
Yes
Microphone
Yes
Camera
--

SENSORS

Accelerometer
Yes

PLATFORM

Operating system (OS)
Proprietary OS
Chipset
--
CPU
--
GPU
--

BATTERY

Type of battery
Lithium polymer
Battery capacity
510mAh
Battery life
Standby: 7-9 days
Mixed usage: 5-6 hrs
Charging
Micro USB charging cord
Charging time
About 1-2 hours

MISC

Compatibility
Andriod 4.0 or later and
IOS 7.0 or later
Companion app
Gizmohub
Interchangeable band
Yes
Voice command
Yes

IN THE BOX CONTENTS

LG Gizmopal 2
USB charging cradle
User manual
LG Gizmopal 2 Features
Design
The Gizmopal 2 is a spectacular timepiece made for kids which lets parents stay in touch with their wards. The design has everything going well for it. its light weighs only 45.35 grams. The body is built for durability. The casing is made of thermoplastic material while the straps are made of silicone. The Gizmopal 2 has a good looking design that is compact, not bulky and very attractive. It's a wearable your kid will love. Verizon is the exclusive carrier for CDMA cellular support on Gizmopal 2.
The Gizmopal 2 is not touchscreen, however its still easy to navigate. It has two touchkeys, a call button and a play button.
Battery
The battery life of the Gizmopal 2 is quiet impressive. The battery capacity is 510mAh which on standby last about 7-8 days on average while talk-time is about 2.5 hours.However battery life totally depends on your usage, on mixed average usage the battery lasts about 5-6 hours which lets you go longer on a single charge.
Activity/Fitness tracking
Beside the incredible design, the Gizmopal 2 has a GPS built in which lets you track outdoor activities effortlessly. You can track location, distance, routes and other outdoor events.
Notifications/Applications
The Gizmopal 2 has LED lights which serves as the indicator for preset events. Beside that the Gizmopal 2 support two-way calling which allows parents to stay in touch with their wards. A maximum of four numbers can be assigned. There is a auto answer feature that activates ten seconds after an incoming call. There is also a caller alert feature that tells who is calling, mom, dad or another family member.
The companion app on the Gizmopal 2 is the GizmoHub App. Most of the features mentioned above can be set from the app. Other features include a voice recorder made possible as a result of the inbuilt microphone. Voice can be recorded by pressing and holding the call and play buttons simultaneously. There is also a voice clock feature, which can be activated by pressing and holding the call button. The Gizmopal 2 also has a loudspeaker. Voice calls can be heard aloud.
The Gizmopal 2 is compatible with both android and iOS smartphones. Its Compatible with Android 4.0 or later and iOS 7 or later.
Pros
The appearance is spectacular and stylish.
Its rugged and built for durability.
The battery life is quiet impressive.
There is support for CDMA powered by Verizon.
It comes with a built-in GPS.
Cons
Very little internal storage space.
Editor's Ratings
Here is our rating on LG Gizmopal 2
Design:

(

3.8

/

5

)

Battery:

(

3.5

/

5

)

Fitness tracking:

(

3.2

/

5

)

Features:

(

4.0

/

5

)

Price:

(

3.3

/

5

)

Average:

(

3.6

/

5

)
Where to Buy
Hi! I'm Jude, the chief editor at Smartwatchseries.com
I'm a scientist, a 3D artist, and a passionate fitness enthusiast. On here, I and other smartwatch fans work hard to help you find the right smartwatch for you with our guides, reviews, and comparisons.
Our aim is to become better at providing useful content, please lets us know via the contact us form if there is any way we can improve.