Like this post? Please share it...
Last Updated on March 31, 2020 by Jude Simeone
Lemfo Lem X full specifications: Lemfo lem X was released in august 2018 with lots of outstanding features. Its one of the very few high-end standalone smartwatches. It runs on Android OS 7.1 and has a large screen size of 2.03 inch which lets you see more at glance. It has GPS built in and comes with 2GB RAM. It's a comprehensive smartwatch for a low price.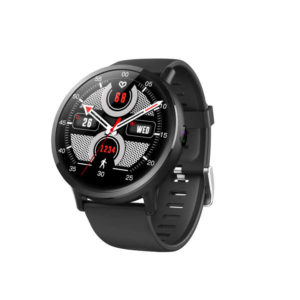 Lemfo Lem X Full Specifications
EDITOR'S RATING

Design:

(

4.5

/

5

)

Battery:

(

3.3

/

5

)

Fitness tracking:

(

4.0

/

5

)

Features:

(

4.1

/

5

)

Price:

(

4.0

/

5

)

Average:

(

4.0

/

5

)

WHERE TO BUY

Check @ Amazon

BUY AT GEARBEST


ABOUT DEVICE

Device name
Lemfo Lem X
Device type
Classic/Standalone smartwatch
Predessesor
--
Successor
--
Released date
August, 2018
Ideal for
Men (also a great choice for women)

DISPLAY

Display type
AMOLED
Display size
2.03 inches
Screen resolution
640 x 590 pixel
Density
--
Input type
Touchscreen
Multi-touch
Yes

BODY

Shape
Circular
Dimension
56mm x 56mm x 17mm
Weight
74 grams
Casing material
Polycarbonate
Strap/band material
Silicon strap
Bezel Material
Band size
--
Screen protection
--
Swim-proof
Not recommended
Color(s)
Black

MEMORY

Water resistant
IP67
RAM
1 GB
Internal storage
16 GB
Memory card slot
--

CONNECTIVITY

Bluetooth
Bluetooth smart v4.0 LE
Wi-Fi
Yes + WiFi hotspot
NFC
No
GPS
Yes, GPS

CELLULAR TECHNOLOGY

Band
GSM 850/900/1800
WCDMA B1/2/5
Technology
4G LTE
SIM slot
Yes, Nano SIM

NOTIFICATIONS

Email alert
Yes
SMS alert
Yes
Calls alert
Yes
Event reminder
Yes
Weather forecast
Yes
Facebook notifacation
Yes
Twitter notification
Yes
Whatsapp notification
Yes

FITNESS TRACKING

Heart rate monitoring
Yes
Sleep tracking
Yes
Distance covered
Yes
Steps climbed
Yes
Calories burnt
Yes
Calories Consumption
Yes

MEDIA

Audio
mp3/mp4
Bluetooth music
Yes
Radio
No
Loudspeaker
Yes
Microphone
Yes
Camera
Yes, 8.0MP

SENSORS

Pedometer
Yes
Accelerometer
Yes
Barometer
--
Magnetometer
--
Heart rate monitor (HRM)
Yes
Gyroscope
Yes
Ambient light
Yes
Other sensors
--

PLATFORM

Operating system (OS)
Andriod OS 7.1
Chipset
MTK6739
CPU
1.5Ghz Quadcore
GPU
--

BATTERY

Type of battery
Lithium polymer battery
Battery capacity
900mAh
Battery life
Standby :2days + , Mixed usage: ~ 12 hours
Charging
USB charging cradle
Charging time
About 1-2 hours

MISC

Payment system
--
Compatibility
Android 6.0 or later.
iOS 9.0 or later.
Companion app
- -
Customizable watch face
Yes
Interchangeable band
Yes
Voice command
Yes

BOX CONTENTS

Lemfo lem X
Strap
Charging cradle USB cable
Quick starter guild
Lemfo Lem X Features
Design

The new Lemfo LEM X is bold, attractive and elegant. It's a classic smartwatch that will look and feel great on both men and women. What is even more spectacular is the rich display, it has a large screen size of 2.03 inch, powered by AMOLED with a high resolution. Your phone will finally get the breathing space it deserves, Lemfo Lem X is a standalone smartwatch that supports up to 4G network. Its touchscreen and supports multi-touch. You can see more at a glance, yet the Lem X is not bulky. It weighs just 74, not too heavy too.

Beside the attractive appearance of Lemfo LEM X, the body is built with durable materials such as polycarbonate for the casing while the straps are made of silicone, a popular and common material used for many straps found on many new smartwatches. The straps are interchangeable, you can define your style for every occasion and the great thing is that it takes less than 5 minutes to fix a new strap.

Battery

Probably, that 2.03-inch screen will need a high battery capacity plus the enormous features that comes with Lem X. It uses a lithium-polymer battery with a capacity of 900mAh, which on standby, lasts up to 3 days on average, whereas on mixed usage with the GPS and HRM on, the battery life is about 12-15 hours, but overall battery life depends on your usage.

Media

If you are after an entertaining smartwatch, then you will find Lemfo LEM X very interesting. There is a 16GB storage space available. You can store and enjoy your favorite tracks on the go. There is also a loudspeaker and microphone built-in which lets you play media files directly from the device without needing to wear earbud. Another great feature seen on Lemfo LEM X is the 8MP camera that comes with it which lets you capture your most captivating moments with ease.

Water Resistance/Protection

Lemfo LEM X is rated IP67, meaning its only splash-proof. You shouldn't wear it to the pool or the ocean. It's not the best choice for anyone who wishes to track their swimming activities. Perhaps try other smartwatches best for swimming or those rated 5ATM.

Activity/Fitness tracking

Lemfo LEM X is great for tracking fitness activities. It supports multi-sport modes. It comes with HRM sensor built-in which lets you keep track of your heart rate variations. An important feature that lets you keep track of your heart health. There is also a GPS built-in which lets you track outdoor activities.

The device also comes with other sensors such as an accelerometer, pedometer which lets you track steps, sleep, sedentary moments and even more. Lem X is a great choice for fitness tracking enthusiasts.

It lets you track steps and distance covered.
The inbuilt GPS lets you track routes, locations and distance.
The HRM lets you track heart rate vibrations.
It can also track your sleep, calories burnt and calories consumed, hiking and more.

Notifications & Application
The Lemfo lem X is a perfect companion when it comes to notifying you when there is a notification on your phone. The smartwatch when paired with a compatible smartphone alerts you when there is a notification from native or third-party apps on your phone.
It alerts you when there is an incoming call or missed calls.
It keeps you updated with your schedules via it's events reminder and calendar features.
There is a weather forecast data update feature.
It notifies you when you have a new text message alert.
It also alerts you when there is a new email on your phone.
It alerts you instantly when there is a notification from different third-party applications such as Facebook, Whatsapp and Twitter.
Lemfo LEM X supports 2G/3G/4G network connectivity, it supports nano-SIM which lets you make calls directly from the device. There is a microphone and a loudspeaker built-in that lets you make clearer and high-quality calls. It also has a Wifi hotspot feature that lets you turn the device into a modem.
The smartwatch is powered by Android OS 7.1 by Google and a Mediatek chip plus a 1GB RAM that lets you do more in a little time with no hitches. This is supported by the 1.5Ghz quad-core fast processor. With Android OS 7.1, you sure can access your favorite apps, download games.
There is no NFC chip built into the Lemfo LEM X which means no access to any payment system.
There are numerous watch faces that comes with the Lem X which you can choose from.
Pros
Bold and elegant design.
1GB RAM and 16GB internal storage.
8MP quality camera.
The Straps and watch faces are customizable.
Its capable of tracking lots of fitness activities.
Runs on android 7.1 OS.
It is built for durability.
There is a loudspeaker and microphone.
Cons
There is no NFC.
Its not swim-proof, rated IP67.
Hi! I'm Jude, the chief editor at Smartwatchseries.com
I'm a scientist, a 3D artist, and a passionate fitness enthusiast. On here, I and other smartwatch fans work hard to help you find the right smartwatch for you with our guides, reviews, and comparisons.
Our aim is to become better at providing useful content, please lets us know via the contact us form if there is any way we can improve.