Last Updated on April 20, 2022 by Jude Simeone
Fossil have announced the Gen 5 series of smartwatches which includes the Gen 5 Calyle and Juliana.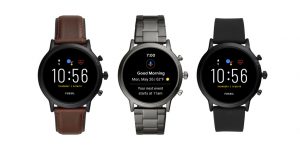 The Calyle will succeed the Gen 4 Explorists, while Juliana succeeds Gen 4 Venture respectively. That's to say the Calyle is the male version, while Juliana is the female version. Although, these two have same case size and software, but differ in the different available colors.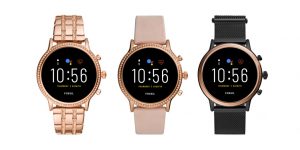 The Gen 5 Calyle and Juliana come with quite a lot of improvement including the Snapdragon 3100 chip that powers these two resulting in a significant difference between these two and their respective predecessors.
Like expected, the Gen 5 series come in a sophisticated design that leaves the Calyle and Juliana with very attractive and charming appearance that's quite befitting for any prestigious event.
The Calyle and Juliana come in moderate 44mm cases sizes and slim 12mm thickness. The case material is stainless steel, while the straps come in stainless steel and leather, and are interchangeable with 22m straps sizes.
AMOLED powers the 1.28 inches display which is very interactive and lively. Although, not so great to read outdoors. The Calyle and Juliana are touchscreen just like their predecessors with three buttons by the side including a rotating button that makes navigation a lot easier.
The Gen 5 Calyle is available in three versions; smoke stainless steel case and straps, dark brown leather straps with black stainless steel case and black silicone straps and black stainless steel. While the Juliana is also available in three versions; Black mesh stainless steel straps and case, rose-gold stainless steel and straps and blush leather straps on gold stainless steel. So, you get quite a lot of options to choose from.
The Gen 5 have 1GB RAM that improves performance significantly just as observed on the Ticwatch Pro 4G and 8GB storage which allow you take more music and your favorite apps onboard. There's also the presence of loudspeaker, including microphone which allow you take full advantage of Google Assistant, as well answer calls on this device.
Both models of the Gen 5 have got 3ATM water resistance rating which makes these two water resistant up to 30 meters. So, you can wear any of these under the rain, as well to the shower or to the pool.
The Calyle and Juliana join the list of smartwatches with the Snapdragon 3100 chip. The more advanced 3100 chip brings better performance and a battery life customization feature that will see the new Gen 5 last a bit longer.
The Gen 5 have four battery saver modes that includes; time-only, daily, extended and custom modes. The time-only mode just as seen on the Gen 4 Sport will deactivate Wear OS features, and will see the Gen 5 last a week or more.
The daily mode with all features active will see the Gen 5 last just over a day, while the extended mode will last a couple of days (2-4) without compromising notifications and heart rate tracking. The custom battery saver mode allow you setup custom battery safe mode.
The Gen 5 series are well equipped to track your active life with a more improved heart rate sensor that's smarter and ready to give you more accurate data. Accelerometer, gyroscope and GPS are also onboard which makes the Gen 5 a great choice for tracking your daily activities.
The Gen 5 will also keep you updated with all that matters to you. It has Bluetooth and compatible with both Android and iOS devices which when successfully connected will keep you updated with all that matters to you. You can control music on your phone as well.
There's also NFC onboard which powers Google Pay – A contactless payment system that lets you make payment on the go from the Gen 5.
Read also Fossil Gen 5 vs Gen 4 sport compared
Hi! I'm Jude, the chief editor at Smartwatchseries.com
I'm a scientist, a 3D artist, and a passionate fitness enthusiast. On here, I and other smartwatch fans work hard to help you find the right smartwatch for you with our guides, reviews, and comparisons.
Our aim is to become better at providing useful content, please lets us know via the contact us form if there is any way we can improve.