The smartwatch for kids market is a very big and booming one which according to this report is expected to reach 873 million US dollars by 2025. . There are hundreds of smartwatches meant for kids, and these lots have some very nice features that could be beneficial for you and your little one. If you're looking for a smartwatch for your child, you'll obviously want something sturdy, compact and packed with just the needed features to improve his/her active/social life. Here in this post, I'll help you make the right choice. I've picked 5 outstanding smartwatches for kids, and I think you'll like it. So, let go.
Smartwatch For Kids Buying Checklist
Before we continue, a brief look at our smartwatch for kids buying checklist – what to look out for.
Design:


The ideal smartwatch for kids is sturdy, compact, lightweight and comfortable to wear. Most of these watches are made of thermoplastic and silicone straps which is soft and doesn't irritate the skin.


Media Features:


A smartwatch for kids will have some sort of media features that can play the role of a companion to keep him/her from being bored. Most of these smartwatches will feature games, stop watch, camera and even music storage. So, you should look out for these features.


Activity/Location Tracking Features:


Some smartwatches for kids will have sensors such as pedometer or accelerometer for tracking steps, distance and more. But one very important feature is location based tracking service inbuilt into most of these watches.

A smartwatch for kid featuring A-GPS with LBS combined is your best bet for tracking the whereabouts of your youngster. It gets location faster, less strain on the battery life and is quite accurate, although less accurate when compared to inbuilt GPS.


Is It Standalone? What Type of SIM/Supported networks/Type of plan?:


If you're buying a standalone smartwatch with cellular connectivity capabilities. You should check the type of SIM required; standard, micro or Nano-SIM. Also check the network supported 2G, 3G or 4G and the type of plans; prepaid or pay-as-you-go.


Long Battery Life:


How is the battery life? The ideal smartwatch for kids has just over a day battery life. The longer the better.


Price:


The price is also a deciding factor, although most smartwatches for kids are relatively under the $100 mark as they lack some of the features found in higher-end smartwatches for grownups. A price range of $30 – $100 is reasonable.


Get The Seller's Contact Details:


You should also have the seller's contact details so that you get the needed guidance to setting up and using the device.
5 Best Smartwatches For Kids – 2020
1. Vtech Kidizoom DX2 Smartwatch (4-12 years)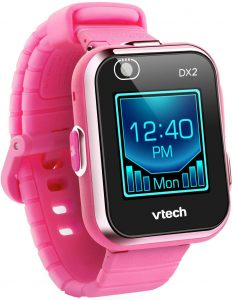 The VTech Kidizoom DX2 smartwatch is one of the best choices you can buy right now for your child. It has quite a lot of features that make it a nice gift for kids. It's a sturdily built device made of a thermoplastic case and silicone straps that are very soft and comfortable to wear all day long. It's also very lightweight and compact too. It comes with two cameras that allow you to take pictures and of course record videos. These pictures can be turned into watch faces. Moreover, there are a handful of games preloaded, as well as other interesting features.
I couldn't find any water resistance rating for this device, but the seller recommends it's splash-proof, but not suitable to wear to the shower.
A motion sensor (pedometer) is also included in the DX2 that track steps, and it's accompanied by a USB cable that can be used to upload videos and pictures. The DX2 is expected to last a day or more, although not so impressive, you can recharge when the battery life reaches very low levels.
If you're looking for a fun-packed smartwatch for your little one, then the DX2 is a great choice.
Key Features
Dual cameras allow you capture those captivating moments.
5 preloaded games.
Lots of preloaded clock faces.
Equipped with pedometer that tracks steps.
[affegg id=34]
---
2. Garmin Vivofit JR 2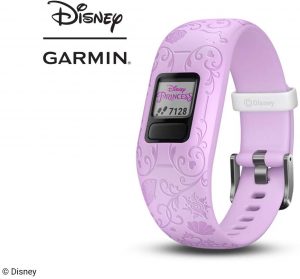 The Vivofit Jr 2 from Garmin is one of the best wearable you can buy for your child. This Disney themed fitness smartband is full of fun and is sure to make a very interesting gift for your little one. It's a very lightweight fitness smartband and its also swim-proof while also loaded with some very nice features. Not only does it track your steps, sleep and calories, there's the Vivofit Jr app that makes this device very helpful.
The Vivofit JR 2 is built for challenge, kids can unlock Disney Minnie Mouse adventures and games by completing select 60 minutes activities. There are friendly reminders that can help your little one complete homework and other little chores. Parents can set rewards from the Vivofit Jr 2 app which can challenge your child to meet set goals.
Other activity tracking features include a toe-to-toe step challenge where kids can sync with nearby kids to a challenge. You can also link up with friends via the Garmin Connect online community.
The Vivofit Jr 2 comes with a CR1632 replaceable battery that is expected to last up to a year before a replacement is required.
Key Features
Lightweight and 5ATM swim-proof.
Tracks steps, sleep and inactivity.
Compete with friends.
Reminder and timer alerts.
Unlock adventures and games by completing select activities.
[affegg id=35]
---
3. Prograce Kid Smartwatch (4-12 years)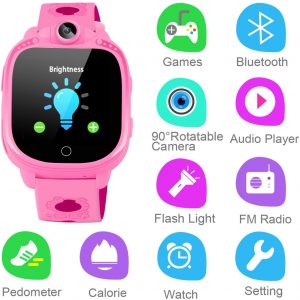 Another nice smartwatch for kids is this wonderful timepiece from Prograce. It's an outstanding smartwatch and will make a fine choice for your kid. Just like the DX2 mentioned above, this device is sturdy, compact and also has silicone straps that makes it a comfortable wear all day long. It has a 1.54 inch LCD display that's very bright and easy to read even under sunlight.
Under the hood, it's equipped with 90 degrees dual camera that allows you to capture those memorable moments which can be customized as the watch face. There is a TFT SD Card slot which supports up to 32GB, you can store music and videos in this which can be viewed right from the watch.
Moreover, this device has FM radio, you only need to plug-in a headphone and search for available channels. Moreover, there are 4 handful preloaded games, as well as a flashlight that can come handy in illuminating a small dark area.
Also inbuilt, is pedometer that can track steps as well as a calories counter. Battery life is quite impressive, you should get about a day or more battery life.
Key Features
Equipped with camera.
4 preloaded games.
Supports up to 32GB SD card.
Equipped with pedometer that tracks steps.
Has FM radio.
Has flashlight.
[affegg id=36]
---
4. L.O.L. Surprise! Kid Smartwatch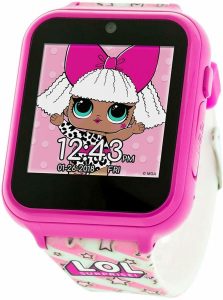 Right on the fourth spot is this fine smartwatch sold by L.O.L surprise. It's a finely designed smartwatch, compact, sturdy, lightweight and comfortable to wear all day long. It's fun packed with lots of features that can eliminate those dull and idle moments. The display is quite wide and easy to read, while it supports touchscreen and has a button by the side for easier navigation.
It comes with a voice recorder, a camera that allows you to take a selfie as well as preloaded fun games. It also has a calculator, stopwatch, alarm and features a pedometer that counts steps. Battery life is estimated at a day or two, but you'll need to charge this every day to keep it on.
Key Features
Selfie camera to capture those captivating moments.
Preloaded games.
Calculator, voice recorder and stopwatch.
Equipped with pedometer that tracks steps.
[affegg id=37]
---
5. Lsflair Kid Smartwatch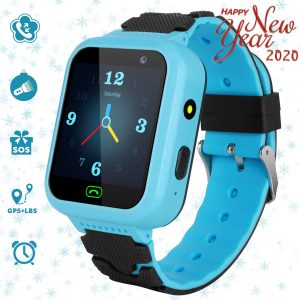 If you're looking for a smartwatch to stay in touch with your little one, then this fine GPS smartwatch for kids sold by Lsflair is a great choice. I'm very surprised that for so many features in one watch, the price is still very much on the low side, yet a sturdy build.
This fine GPS smartwatch for kids can do a lot more than just keeping you connected to your little one. It supports 2G GSM network (check for network coverage in your area before buying), it can be activated from your phone, and it has an App from where you can configure every feature from "Do not disturb" to assigning numbers, about 10 numbers can be assigned.
This watch is sturdy, but not so compact, although lightweight thanks to the thermoplastic and silicone straps that make it comfortable wear all day long. The display is wide thanks to the slight bulky case size, and it supports touchscreen which is accompanied by a button.
There's an alarm, preloaded games, flashlight, and camera.
Safety features built into this watch include the SOS feature that can be activated by holding down the SOS button for 3secs. Two-way voice calling is also available, and it's very clear. So parents can call their little one to check on their whereabouts at a given time. Parents can also view the realtime location of their child at any given time. This watch achieves these location-tracking functions by the combine working of the A-GPS and GSM network.
Battery life is also great despite the enormous features in one watch. You should get about a day of battery life.
Key Features
Equipped with camera and flashlight.
Preloaded games.
A-GPS + GSM network position tracking.
Two-way calling.
SOS emergency alarm.
[affegg id=43]
---
Conclusion
There are many reasons to buy a smartwatch for your little one, these watches can improve their social life and as well eliminate those dull moments . And while there are some many nice options, the five mentioned above are some of the very best choices right now.
Hi! I'm Jude, the chief editor at Smartwatchseries.com
I'm a graduate of biochemistry, a 3D artist and a passionate fitness enthusiast. On here, I and other smartwatch fans work hard to help you find the right smartwatch for you with our guides, reviews, and comparisons.
Our aim is to become better at providing useful content, please let us know via the contact us form if there is any way we can improve.